Categories
Online nunchaku shop
Sport nunchaku was founded in 1984 by Milco Lambrecht. Freestyle nunchaku is from this period experienced a stormy development. In these years, the development of the nunchaku certainly not stood still new, better materials (core, is packaged, rope and line types), the nunchaku eventually made to the product as it is now. And is therefore then also the only product which officially may be used for the sport nunchaku-do.
In addition, among others, the correct grip thickness, length and weight of the nunchaku important to the nunchaku techniques well to be able to carry out.
The sports freestyle nunchaku
In the Netherlands, the sport is organized by Foundation nunchaku Netherlands (SNN). This organization is affiliated with the Federation of Martial Arts (FOG) and recognized by the NOC * NSF. Nunchaku shop among others, the official supplier of Foundation nunchaku Netherlands. Do it yourself with the sport Nunchaku-do, in our shop you own buy nunchaku .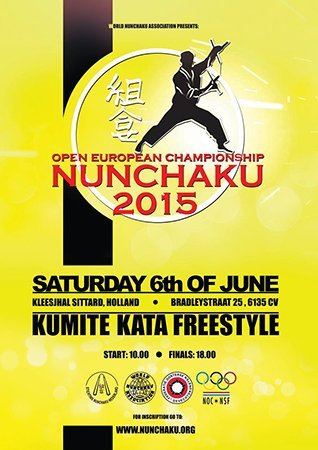 The WNA Open European championship will be held on June...